Fall Cooking Series: Home for the Holidays with Bill Kaliff
Six Monday Evenings in the Farmhouse • 6:30-8:30 pm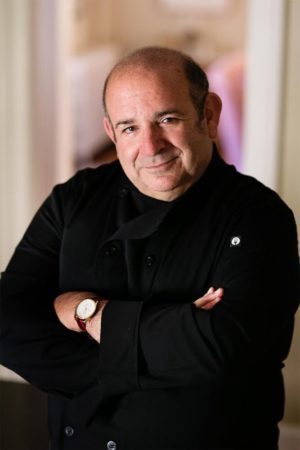 Join award-winning Executive Chef Bill Kaliff for a teaching/tasting culinary journey as he shares creative, delicious recipes and stylish presentations for stepping up your holiday game.
Using fresh and seasonal ingredients, Bill's expertise as a chef and a successful catering/event professional will come into play as you learn how to create do-ahead hors d'oeuvres, organic holiday garnishes, stationary appetizer presentations, plated first course recipes, plated dinner recipes, a holiday buffet, desserts, and more. You will not only learn recipes and cooking skills, but also entertaining and event planning tips.
Classes cover essentials to progressively advanced techniques, with each class combining demonstrations, tastings, and hands-on cooking.
William Kaliff, Co-founder & Executive Chef Festivities Food & Design
The art of food has always been Bill's passion. Bill has a special talent in creating extraordinary menus and incredible culinary presentations. He leads Festivities' culinary team through emerging trends both in ingredients and presentation. A graduate of the French Culinary Institute and Georgetown University with graduate studies at Fordham University at Lincoln Center, Bill has been recognized by Bon Appetit magazine as one of the "Leading Chefs of the Nation." He has worked under the award-winning chef, Jacques Pépin, and has been honored by the James Beard Foundation.
Six-week Series:
October 7, October 21, October 28, November 4, November 18, November 25
(No class October 14 or November 11)
Class size is limited to 10 to optimize the experience for all participants.
FULL SERIES:
Members: $750 | Non-members: $900
INDIVIDUAL CLASSES: 
(subject to availability)
Members: $125 | Non-members: $150
Fee includes food, wine, and take-home recipes
Gluten Free substitutes/alternatives will be discussed for each recipe
October 7
Hors D'oeuvres To Pass
Master six original recipes designed for the home cook to completely do ahead. Focus will be placed on creating organic garnishes that are thematic with holiday spirit.
October 21
Stationary Appetizer Presentations
Learn how to create two table scapes with three different themes, designed to be served alongside tray-passed hors d'oeuvres. Perfect for DYI menus for holiday open house parties.
October 28
Plated First Course Presentations
Bill will teach you how to prepare six original recipes for plated first course presentations designed for intimate holiday season dining. Participants will explore the deconstructed salad, a dairy-free veloute soup, Peking duck wraps on Asian slaw, individual plated antipasto, Mediterranean mezze, and a composed Tapas plate.
November 4
The Holiday Buffet
Bring your appetites! Bill will demonstrate and then serve a bountiful buffet to set the tone for a holiday season of full flavors and brimming with hospitality.
November 18
The Holiday Plated Dinner
Bill's two plated entrees will showcase a duo of protein presentations and include comforting starches alongside fresh, vibrant vegetables. Great tips for preparing sauces will be explored.
November 25
The Holiday Dessert Table
Create and serve a holiday dessert table that combines "Singular Sensations" and "Miniature Sweet Finales." The class will also make Mexican Hot Chocolate served with a faint dusting of chili powder and peppermint swizzle sticks.