Join us and bring along your friends as we present a new curated series of after-hours art-soirees designed to challenge and inspire.
Programmed by Jillian Casey, Curator of Collections and Exhibitions, our art after dark series allows you to experience the SM&NC as never before; merging art and nature, the visual and the sensory. Bring your curiosity and your imagination, and prepare to be delighted and intrigued.
A Bluegrass Evening with the Leathermen
Thursday, March 14, 6:00 – 8:00pm
Join us for a Bluegrass evening with the Leathermen and enjoy their gorgeous sounds while strolling through the galleries and taking in an exclusive after-hours viewing of the Medieval to Medal exhibition. Small bites and refreshments will be served.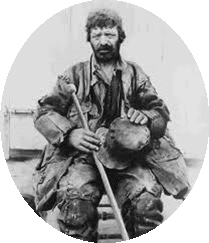 Meet the Leatherman, the legendary mysterious vagabond of Connecticut and New York fame, the subject of much study, and the recent book The Old Leatherman by Dan De Luca (Garnet Books 2008). A reclusive wanderer, thought to be once prosperous but haplessly forlorn in love, he trod an astounding track, a perpetual 365 mile loop between Connecticut and New York. He completed this circuit almost every month for six years (1883-9).
Now meet the Leathermen, who have played for several years in many venues around Connecticut,  at the Leatherman's Loop, and Muscoot Farm races, and on ICRV radio, keeping the Leatherman's memory alive.  Here they are, from R to L: Rick Crossman (guitar/vocal), Don Snyder (bass/vocal) Glenn Behrle (mandolin/vocal), and John Lawrence (5-string fiddle/vocal).
Member: $35 |  Non-members: $40 |  Director's Circle: Free