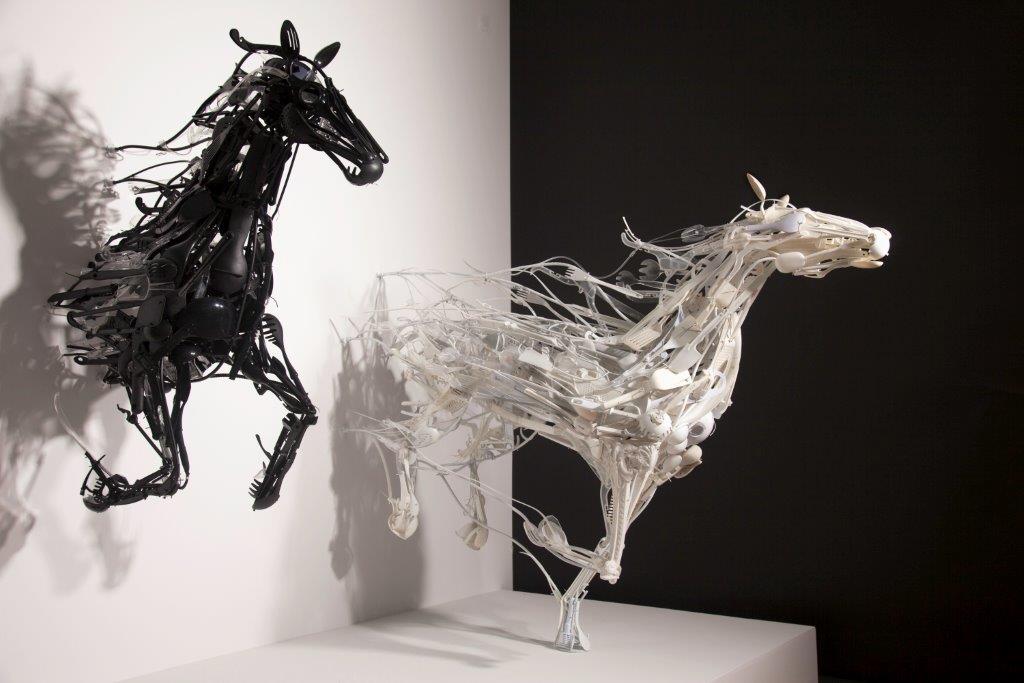 Sayaka Ganz: Reclaimed Creations
June 28 – September 2, 2019
Sayaka Ganz utilizes reclaimed plastic household objects like brush strokes which appear visibly unified at a distance though separate at close proximity; she describes her style as "3-D impressionism". Ganz's aim is to impart new life to the items by transforming them into wildlife forms in full motion- including horses, birds, swimming polar bears, and "Uta" a humpbacked whale.
This exhibition includes installations of animals, which are in rich in color and energy, to create an illusion of form. "My work is about perceiving harmony, even in situations that appear chaotic from the inside," Ganz said in a news release. "When observing my sculptures up close, one might see gaps, holes, and items being held on only by small points; step away, however, and the sculptures reveal the harmony created when the objects are aligned to the same general — but not identical — direction. Similarly, it is important to gain perspective by stepping back from current problems and look at the larger picture. Then one can perceive the beauty and patterns that exist." Ganz said she hopes her creations will provoke a re-examination of our relationship to the natural world.
Organized by David J. Wagner, L.L.C.
MEDIEVAL TO METAL: The Art & Evolution of the Guitar
February 22 – May 27, 2019
"Medieval to Metal: The Art & Evolution of The Guitar" celebrates the artistic development of the guitar. Developed by The National GUITAR Museum in New York, New York, it features 40 objects, ranging from the rare and antique to the wildly popular and innovative. The exhibition explores all facets of the world's most popular instrument, from its history as an instrument of popular culture over the past four hundred years to modern efforts to reinvent the guitar with different materials, shapes, and approaches to design.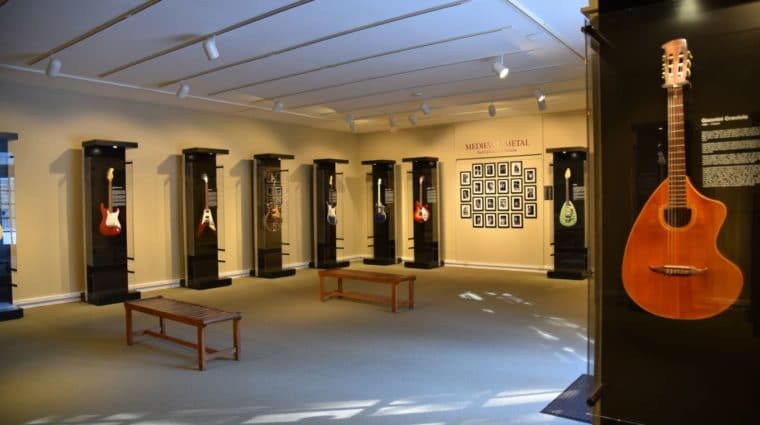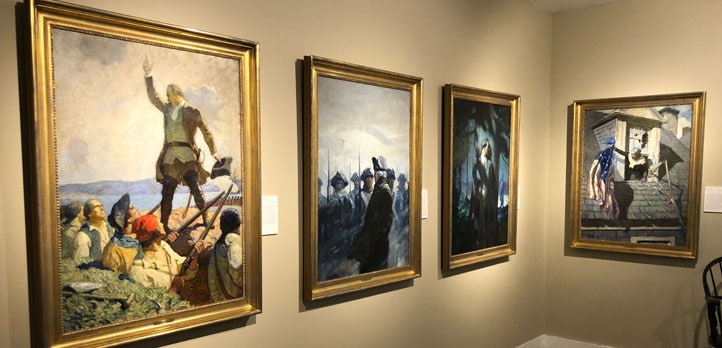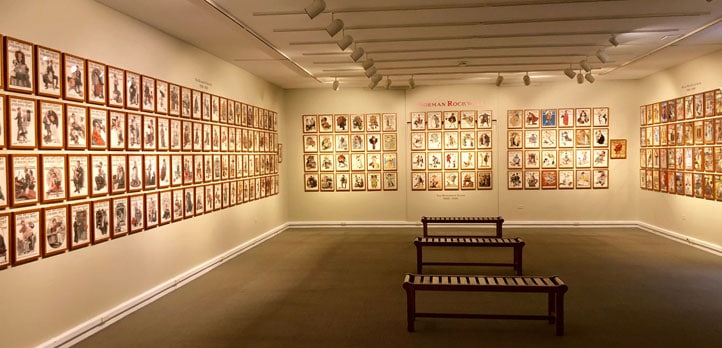 HOLIDAY TRIPTYCH
N.C. WYETH: Poems & Paintings of American Patriotism, NORMAN ROCKWELL Saturday Evening Post Covers and The Four Freedoms & WWI Illustrated sheet music from the Kies Collection
Saturday, November 10 – Jan 27, 2019
The arts have an undeniable place in the ethos of American patriotism. Dating back to the late 18th and early 19th centuries, artists have been showing the America they experienced and observed. This exhibition will feature the different forms in which artists have expressed their patriotism. The Stamford Museum & Nature Center will be showcasing; N.C. Wyeth: Poems & Paintings of American Patriotism, Norman Rockwell's Saturday Evening Post Covers & Four Freedoms and a collection of illustrated sheet music covers from World War I.
THE LOFT ARTISTS: Then & Now 40 Years of Art
September 21 – October 28, 2018
The Loft Artists: Then & Now 40 Years of Art (1978-2018) presents a semi-retrospective including roughly eighty works by selected previous and all current Loft Artists Association members. The show will provide a visual timeline of artists living in Stamford in 1978 and how it has evolved into the current Stamford arts scene. The selected works will highlight the dynamic mediums, themes, and methods that these local artists use.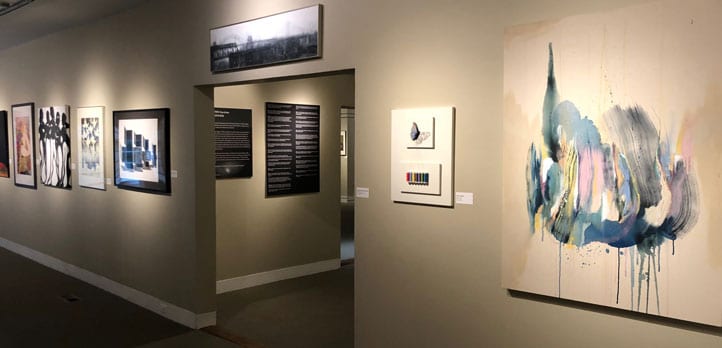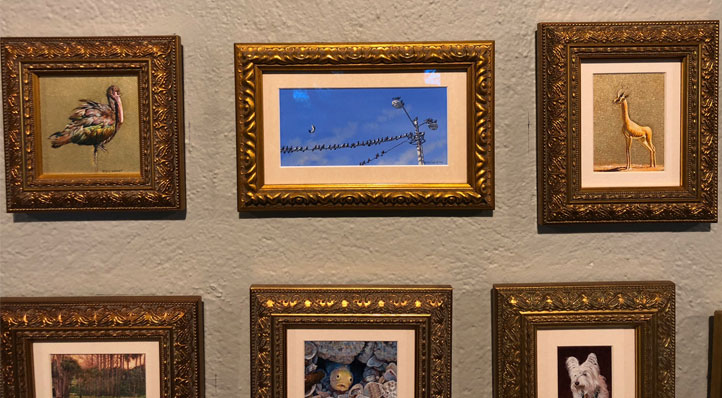 EXQUISITE MINIATURES by Wes and Rachelle Siegrist
August 1, 2018 - January 1, 2019
Fifty Miniature paintings of the natural world so exquisitely crafted that they are often mistaken for tiny photographs. Tiny treasures that typically measure less than 9 square inches display intricate details when viewed under magnification!  EXQUISITE MINIATURES consists primarily of nature subjects and landscapes, but it also includes a few portraits and still lifes.
ONCE ENDANGERED: The Return of Wolves & Peregrine Falcons
June 23 – September 3, 2018
In times of shrinking habitats, degraded environments and dwindling biological diversity, it is a rare and wonderful event when an endangered species is brought back from the abyss. This exhibition tells just such a story. Using specimens, objects, interactives, video and graphics, this exhibition looks at the biology, behavior and near demise of these remarkable birds. The Bell Museum of Natural History, in cooperation with the International Wolf Center in Ely, MN, presents, a timely exhibition about wolves and their related cousins, the red wolf and coyote. It explores human and wolf coexistence and examines issues and experiences from the Arctic to the American Southwest. Although the details vary across the continent, a consistent story emerges: humans determine the future of the wolf in North America.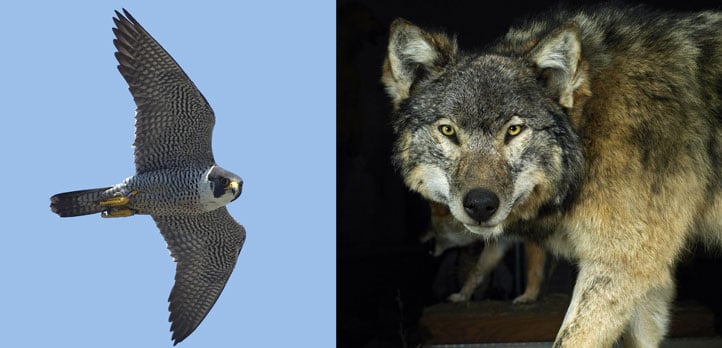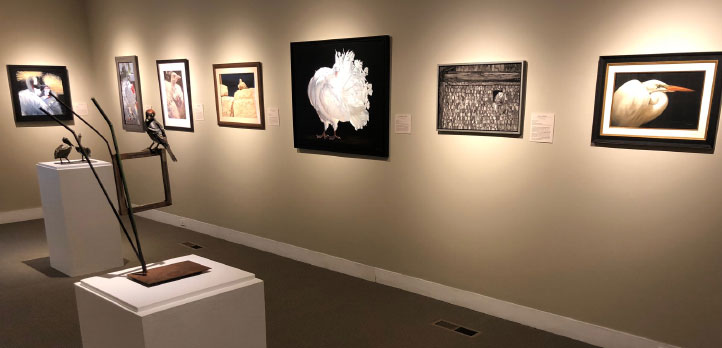 Birds in Art
February 24 – May 28, 2018
Birds, in all of their majesty and fragility, connect us with the natural world. When some of the world's most talented artists look to birds for inspiration and strive to be among those chosen for the internationally renowned Birds in Art exhibition, the resulting artworks are stunning.