EVENING OF EVENTS:
Fruitfulness by Nathalia Edenmont Opening Reception& Fall Farm-to-Table Supper featuring Chef Alison Milwe Grace
Thursday, September 19, 2019
Cocktail Reception in the Bendel Mansion at the Opening of Fruitfulness, 5:30-7:30 pm
Fall Farm to Table Supper in the Knobloch Family Farmhouse, 7-9:30 pm
Select an Image to View Larger:
Foodies and art lovers, mark your calendars for September 19 for the opening of our Fall Exhibition and our Farm-to-Table Supper.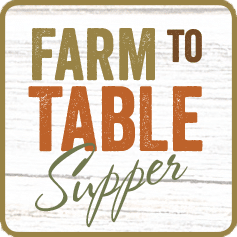 The evening begins with cocktails at the Opening Reception of Nathalia Edenmont's Fruitfulness. This exhibition displays the work of Swedish artist, Nathalia Edenmont who was born in 1970 in the Soviet Union. Her passion is translated into powerful photographic images that attract us with their beauty and snare us with their honesty. Nathalia will be in attendance at the Opening Reception to discuss her work.
Then, guests will move on to our new Knobloch Family Farmhouse for our Farm-to-Table Supper! This intimate dinner features farm-fresh cuisine for the most discerning palates, prepared by award-winning local chef, Alison Milwe Grace of Wilton. Proceeds from this exceptional dining experience support the mission and programs of the Stamford Museum & Nature Center.
We hope you'll join us for this SM&NC signature event.
Tickets for the Farm-to-Table Supper are $150 per person ($1,500 for table of 10).
We welcome guests ages 18 and up to our Fall Farm-to-Table Supper
Open Bar   |   Fall Chic Attire
Fall Farm-to-Table Supper Menu
---
FIRST COURSE
Individual cheese course with local cheeses, fruit and nut baguette, dried fruits
SALAD COURSE 
Early autumn lettuces with local strawberries, honey dusted sliced almonds, crumbled chèvre and white balsamic vinaigrette
Baskets of artisan rolls and salted butter on each table
 ENTRÉE 
Cider glazed braised organic chicken thighs served with roasted root vegetables and Israeli couscous
or
Maple-thyme dusted salmon fillet served with mashed potatoes and roasted local carrots
or
Honey-apple roasted pork served over fresh egg noodles with roasted cabbage and caramelized onions
or
Farfalle pasta with roasted butternut squash, roasted shallots and sage in a brown butter sauce
DESSERT 
Apple bread pudding with cinnamon whipped cream and fresh berries