Spring Farmergarten 2022 (Ages 4-6)
 January 24-June 8 (no class 2/21, 4/11, 4/13, 5/30)
Mondays and Wednesdays -  9:00 a.m.-12:00 p.m.
Our Farmergarten class returns for the 2022 winter/spring session! Designed for students who are not looking for a full week preschool experience, Farmergarten provides many of the traditional aspects of preschool with amazing hands-on experiences on our Heckscher Farm and with our animals.  Students will plant and harvest in the garden, work directly with our farm and exotic animals, help with seasonal farm chores, all while exploring the museum's trails and grounds.  Held in our private Heckscher Barn classroom, Farmergarten is taught by our environmental education and farm curator staff.  While it won't include all aspects of preschool (such as formal parent-teacher conferences), students will work on educational benchmarks, in addition to motor and vestibular sense skills, through free play and hands-on exploration. Staff will also provide feedback to parents throughout the year.  
Class will be cancelled if Stamford Public Schools are closed or delayed. Children must turn 4 by April 1, 2021 to enroll. 
Members: $1250 (36 classes) | Non-members: $1450 (36 classes)
Want to join us next year?
Let us know early! A minimum of 4 children is needed to be able to run the program for the semester.  Maximum class size is 8 children. For additional information on the program please contact Lisa Monachelli at lmonachelli@stamfordmuseum.org.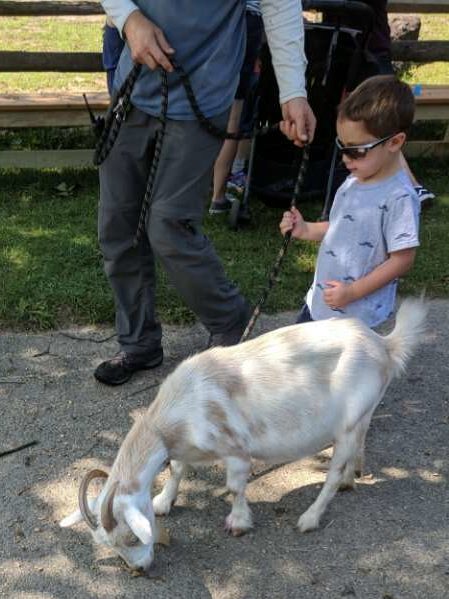 Youth & Family Program Policies
Refunds may be available for a registered program up to 10 days before the program date.  Within 10 days refunds are, unfortunately, not available. Please register carefully. Contact registration at 203.977.6521 for refunds. Programs cancelled by SM&NC will be refunded in full.
Ticket transfers are not permitted. Only registered parties may attend in their program time/date.
Please note age requirements.  Registrations outside of the age minimums/maximums will be cancelled and may not be refunded.
Please note registration requirements.  Some programs are drop-off and some require adult attendance.  All parties 3 and up that attend a program require a ticket for individually-ticketed events.