Business Affiliates Membership Program
Connecting companies to the natural world!
Business Affiliates Membership offers businesses a chance to get involved, give back to the community, and get their employees and their families outdoors in a healthy, fun, educational environment.
Your company can join with other distinguished organizations, large and small, whose commitment to the Stamford Museum & Nature Center supports our mission to bring the wonders of art, nature, astronomy, and environmental education to our community and the surrounding region.
For more information about our Business Affiliates Membership program, please contact Karen Meizels at 203.977.6546 or kmeizels@stamfordmuseum.org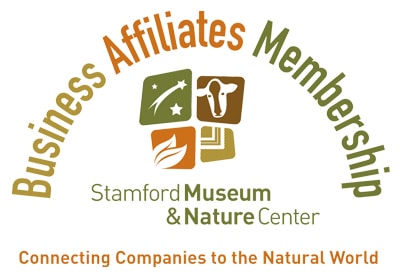 The Stamford Museum & Nature Center would also like to thank the following foundations for the generosity they have shown in supporting our mission.
Claire L. Helsing Foundation
COEEA Fund
Dalio Foundation
Fairfield County's Community Foundation
Garden Homes Fund
Goodnow Fund
Henry E. Niles Foundation, Inc.
Julia Wasserman Animal Welfare Fund
Knobloch Family Foundation
Leon N. Lapine Charitable Residuary Trust
Louis J. Casale, Jr. Charitable Foundation
MBIA Foundation
M.L.E. Foundation
Marjorie & Mabel Fund
Mead Rust Foundation
Oaklawn Foundation
Overbrook Family Fund
People's United Community Foundation
RSM US Foundation
Santa Family Fund
Savings Bank of Danbury Foundation
Selkowitz Family Foundation
Sidney Stern Memorial Trust
Simon & Eve Colin Foundation
Stamford Hospital Foundation
Stamford Rotary Trust Fund
State Street Foundation