First County Bank Maple Sugar Festival Weekend
March 7-8, 2020 | 11am - 3pm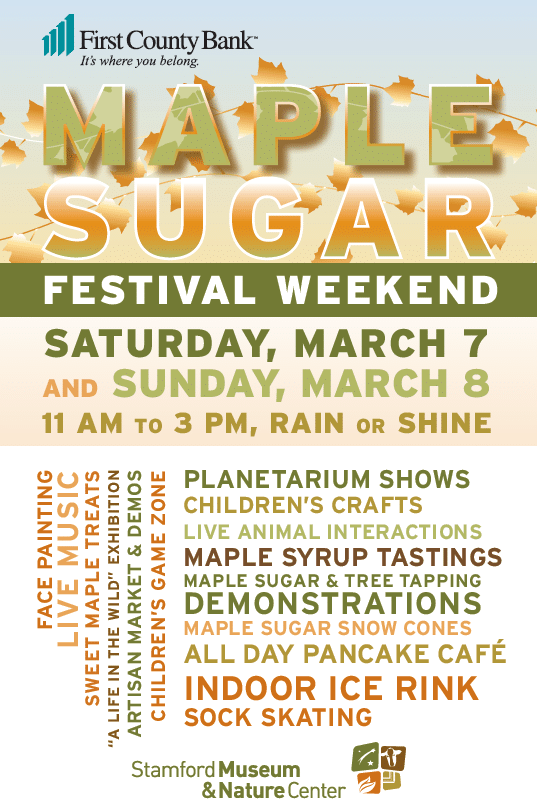 Celebrate the sweetness of the maple sugaring season at this annual family favorite festival!
Join us as we make our very own line of maple syrup from the 200+ mature maple trees found right here our 118-acre campus. We're one of only two official maple sugar producers in Fairfield County!
Our annual First County Bank Maple Sugar Festival weekend features a ton of activities for your family, including traditional favorites like maple syrup tastings and tree tapping demonstrations, and new offerings like indoor sock skating, an indoor game zone, and breakfast all day at our "All Day Pancake Café!" Enjoy animal interactions, face painting, planetarium shows, live music, children's crafts and games, and more!
Visit our museum in the Bendel Mansion to catch our breathtaking exhibition, Thomas D. Mangelsen – A LIFE IN THE WILD, and participate in live demos at our Artisan Market. Make sure this family-friendly festival is on your calendar! Purchase your tickets today!
Family Plus & Director's Circle members:  FREE
Members: $6/person
Non-members:  $12/person
Sponsor a Bucket at
the SM&NC!
Support the Maple Sugar Education Programs at the SM&NC by sponsoring one of our maple sap buckets.