New Planetarium & Astronomy Center Will Be 'Game Changer' For Stamford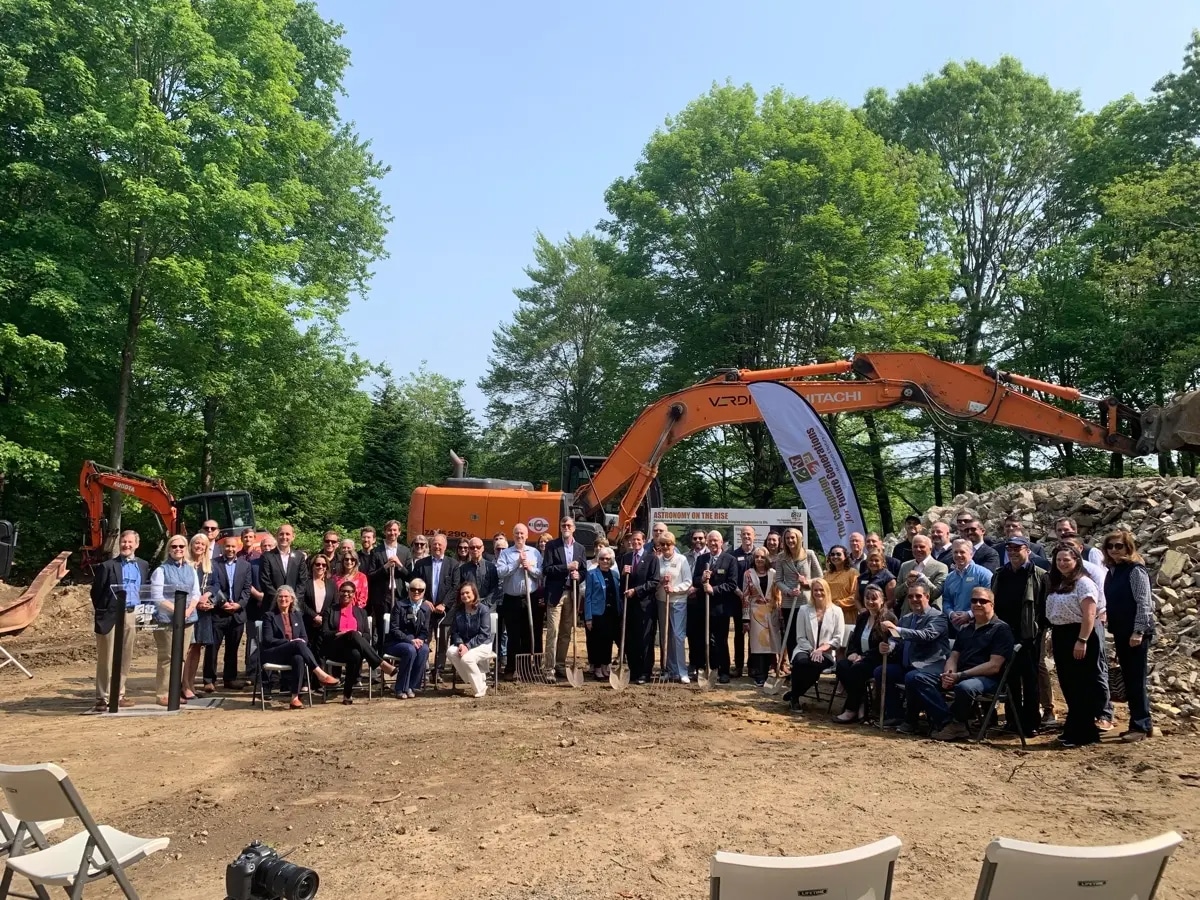 The Stamford Museum & Nature Center on Tuesday officially broke ground on a new planetarium & astronomy center.
STAMFORD, CT — It was an exciting day at the Stamford Museum and Nature Center (SM&NC) on Tuesday, as officials broke ground on a new planetarium and astronomy center that figures to be a crown jewel for not only the city, but the entire region.
The community gathered on Tuesday morning at the SM&NC's north campus on Scofieldtown Road at the former site of the abandoned Stamford Observatory which was recently demolished.
Last fall, the SM&NC removed a historic 22-inch Gregory-Maksutov Telescope from the observatory to pave the way for demolition.
At nearly 11,000 square feet, the new, $12.5 million planetarium and astronomy center will feature:
A 100-seat planetarium theatre
An open-air, roll-back roof observation deck with lunar and solar telescopes
State-of-the-art science technology
Welcoming lobby gallery
Two school and community classrooms
Scenic outdoor terraces
ADA compliant facilities and elevator
Astronomy and technology offices
As part of the master plan for the SM&NC, the first phase of renovations to the 118-acre campus was completed in 2018 when the Knobloch Family Farm House opened.
The planetarium and astronomy is phase 2, and it will be a "game changer," according to SM&NC Chief Executive Officer Melissa Mulrooney.
The facility will be a cultural destination, and it will also serve as a center for STEAM education (Science, Technology, Engineering, Arts and Astronomy, and Math) that supports Connecticut state standards and new generation science standards.
"Not only does it bring back one of our key signatures in education, but this is a state project, this is a city project, this is a project that's going to truly enrich the mid-Atlantic region. I couldn't be more proud to be directing this institution at this historic time," Mulrooney told Patch on Tuesday.
The brief groundbreaking ceremony featured comments from U.S. Sen. Richard Blumenthal (D-CT), and Harry Day, SM&NC board president.
Day called Tuesday a "monumental moment" in the 87-year history of the SM&NC.
Blumenthal recalled taking his children to the nature center, and expressed excitement about the SM&NC taking a "really exciting, absolutely fabulous step forward into the 21st century."
"It will be unique in the state of Connecticut, and right here in Stamford it will be a destination for school groups, for parents bringing children to learn about the world that surrounds us, and to create dreams — dreams about scientific accomplishment, about the unknown worlds beyond us, and the great possibilities for future human achievement, and all of it in a place with those memories and with so much history that we cherish and preserve," Blumenthal said.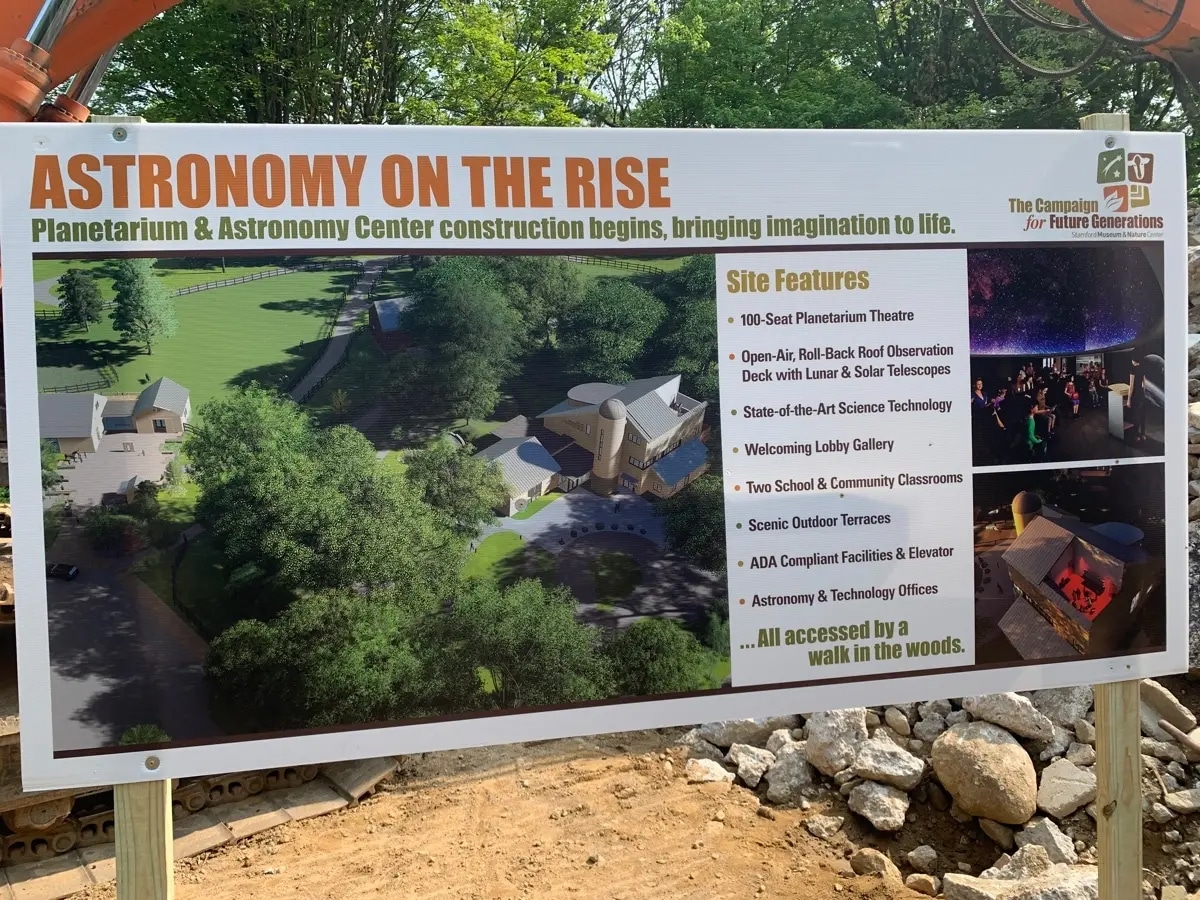 The SM&NC's Campaign For Future Generations has raised about $7 million for the project so far, according to Mulrooney. The remainder will come from the federal and state government, and private donations.
"We will leave no stone unturned in seeking federal funding, and making sure that the state of Connecticut recognizes the importance of this project," Blumenthal added. "We ought to go all in for this planetarium and astronomy center, and to make sure it really becomes the kind of destination that Stamford deserves, not just for Stamford, but for the entire state and indeed our region."
State Rep. Rachel Khanna (D-149), who represents Greenwich and a portion of Stamford, also said she used to take her kids to the nature center.
"I think the SM&NC is a wonderful, wonderful place. I think this is so exciting for Stamford and also for neighboring communities to enjoy this great space, and to learn about the stars and so much more," she said.
The SM&NC is already an incredible gem in the city, according to Mayor Caroline Simmons. But this latest project will help elevate the campus to new heights.
"This world class center is going to take it to the next level and continue to make the SM&NC a wonderful attraction for our entire region," she said. "The focus on astronomy, science, and STEAM is so important, too, because those are the skills our students and future workforce need."
Simmons said she's already looking forward to taking her children to the center once it's complete.
Mulrooney said the SM&NC expects to open the facility in September/October 2024.