On View: November 19, 2021 -- January 30, 2022
Opening Reception with the Artist & Holiday Artisan Market
Thursday, December 2, 4 -- 7 pm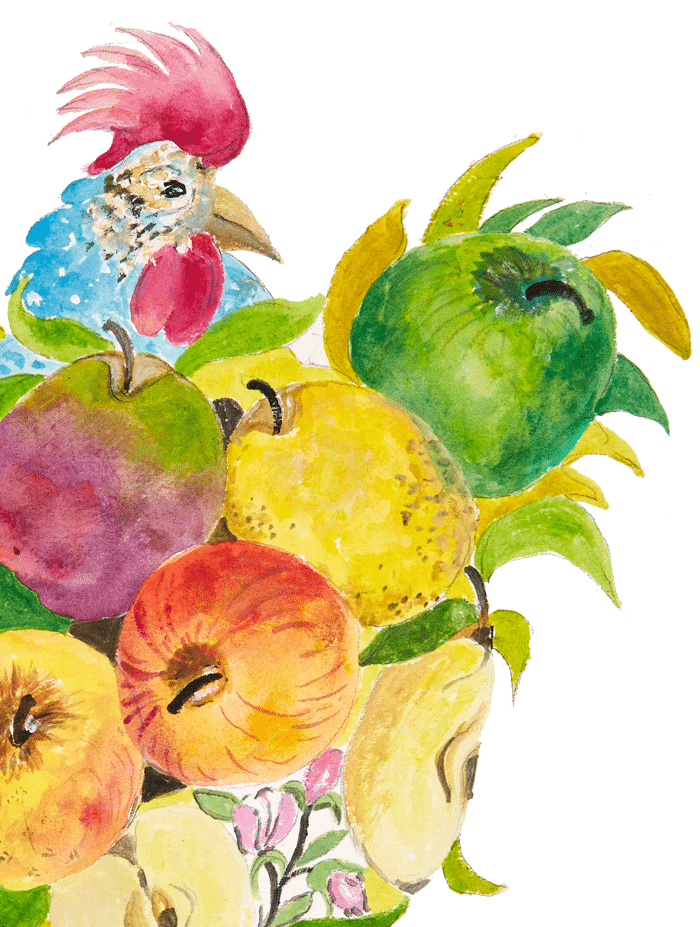 While Jacques Pépin is revered worldwide for his cooking, his artwork is less-known but equally compelling, intuitive, and creatively expressed.
Pépin began painting over 50 years ago, starting with hand-illustrated menus created to celebrate the joy of mealtime gatherings for friends and family. Since then, he has expanded to capturing animals (particularly roosters and chickens), farm scenes and rural landscapes in a charming, pastoral style with a vivid palette. Read our recent press release.

Opening Reception with the Artist & Holiday Artisan Market
Thursday, December 2, 4 -- 7 pm
Join us for our Opening Reception to meet and greet Jacques. Shop our Market's variety of handmade work by local artisans. Hand-signed commemorative exhibition posters will be available for purchase — a beautiful holiday gift!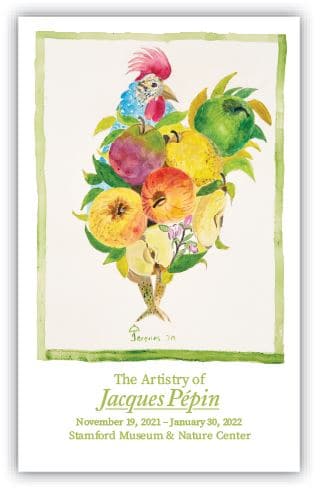 Come meet Jacques and shop our Holiday Market for handmade artisan products. Goods include Candles, Soaps, Body Scrubs, Skincare Products, Jewelry, Ceramics, Cutting Boards and Decorative Woodworks, Essential Oils, Fine Art Photography, Illustrations, Honey and Tea.
Jacques Pépin's signed commemorative exhibition posters (12" x 18") will be available for purchase, just in time for the holidays.
Adults only. Free event with required pre-registration. RSVP includes vaccination status. We ask those who are not vaccinated to wear a mask. Please be prepared to show vaccination card.
I don't know whether my painting has helped my cuisine, or whether my cooking has helped my painting, and I don't know if one borrows from the other. All I know is that, certainly for me, cooking and painting can live in harmony together. Both are different expressions of who I am, and both enhance my life considerably." –Jacques Pépin