Stamford Magazine: Now & Then – The Great Outdoors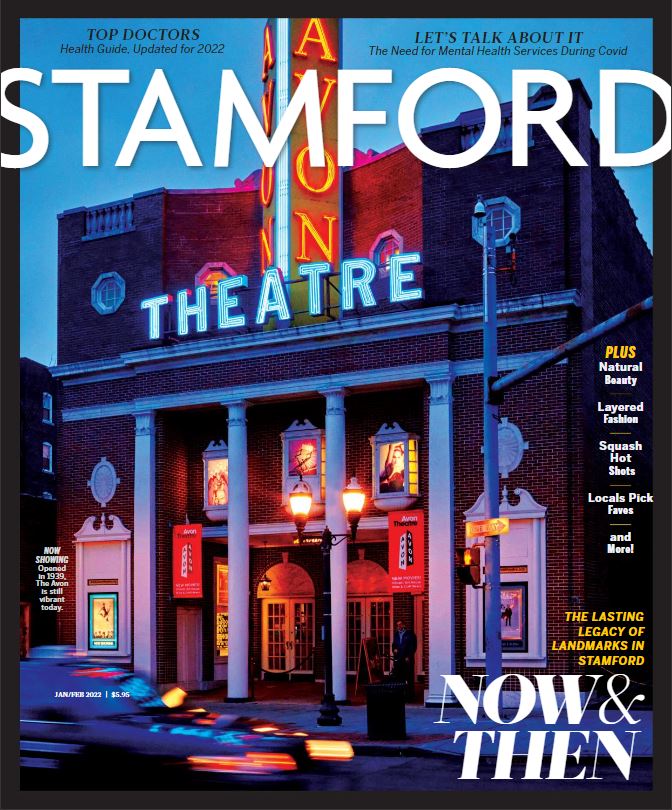 Now & Then
It seems every year there's something new about this city. A new park. A new mayor. A new, not-so-under-the-radar pizza place. Surely, there's enough buzz and excitement to go around. Then, there's the nostalgia factor. The imprints left by those who knew Stamford a little differently. Those who remember it as the small town just outside the big city. In this issue, we're taking a moment to recall people and places that make up Stamford's rich history. After all, vintage is the new trendy.
THE GREAT OUTDOORS
Stamford, part town, part city, has preserved open spaces as it has grown. From Cove Park (providing public access to the beach) to Mill River (which created a beautiful park for meeting up with friends, taking public fitness classes and dancing to big performances and concerts right downtown), Stamford has many open spaces to enjoy nature as a community. Here, we pay homage to the long-established centers that have sown the seeds for future generations to enjoy, learn from and be inspired by.
BARTLETT ARBORETUM & GARDENS • EST. 1913
At the turn of the twentieth century, a dendrologist (a botanist who specializes in the study of trees) by the name of Francis A. Bartlett secured a thirty-acre plot in North Stamford woodlands. He sought to study and preserve the natural tree specimens on the plot where he lived and conducted research and trained early professionals through his company, the Bartlett Tree Expert Company. An eminent researcher, he became the first to implement the use of sprays to manage landscape pests and use cables and braces to reinforce structurally weak trees. By 1965 the State of Connecticut had purchased the sixty-four acres he had redeveloped under the Federal Open Spaces Program, and, by 1966, the space was opened to the public.
Since those early years, the Bartlett Arboretum & Gardens (bartlettarboretum.org) has become one of the most populous and noteworthy green spaces in Stamford. Its commitment to environmental patronage and preservation of the natural world has been given a green thumbs-up by environmentalists and the community that it thrives upon. With its twelve scenic gardens, mile-long trails, educational and community involvement programs, it has sustained its good reputation and inspired horticulturists and budding botanists for over a half century.
"The Bartlett Arboretum has gone through many changes over the past fifty years," says Peter Russell, chair of the Board of Directors at Bartlett. "Yet throughout all these changes, one thing has remained constant: The Bartlett Arboretum is a thriving environment with exotic and notable trees and shrubs, gorgeous gardens, knowledgeable and friendly staff and expert volunteers. Our volunteers are the wheels that keep the Arboretum going. Every day of the week, Master Gardeners can be found working hard in our gardens and offering horticultural knowledge and expertise to the public."
Like the trees and greenery it fosters, Bartlett's future is being nurtured. The nonprofit announced at the end of the year that they had received a $175,000 grant from the Open Space and Watershed Land Acquisition Program at the behest of Governor Ned Lamont's initiative to enhance green spaces. As beneficiaries, they will use those funds to construct a 2,400-square-foot open-air pavilion next to the Silver Educational Center. The pavilion, which can house up to 200 people, will break ground this spring and will be used to host educational and community groups, such as the Boy/Girl Scouts, UConn's Master Gardener program, festivals, summer concerts and weddings.
"The open-air pavilion will have a measurable and lasting impact on the Arboretum's ability to serve its constituents," says CEO Tracy Kay, who was elected to the position in 2021. "It will contribute to and enhance the Arboretum's offerings, including our summer concerts, summer children's camp, our Master Gardener Program, senior programming, a space for adult education and art classes and other organizational events. It will always be open to visitors to relax, enjoy a cup of coffee or a family meal, and sit in the shade while enjoying the view of our many gardens. This pavilion will enhance our urban open space and Stamford will see an increase in tourism and local residents enjoying and spending more time in nature."
Because education and conservancy stand at the forefront of what they do, Director of Education Mike Belletzkie demonstrates how partnerships with community organizations have given them the ability to reach out. "We work with and educate more than 5,000 school children each year. The Arboretum partners with several Stamford organizations, such as Inspirica, Future Five, Children's Learning Center, Villa Maria School, Mill River Park, Abilis and Stamford public schools. Our partnerships with these organizations are crucial to building meaningful connections in the community and to help us accomplish our goal of growing environmental stewards in every neighborhood."
When you visit the arboretum; whether to walk your dog or learn a new skill, be grateful to those who made sure that Stamford locals have a place to contemplate and enjoy. The Bartlett is a place for a bright future.
STAMFORD MUSEUM & NATURE CENTER • EST. 1936
On the outskirts of the post-war years, the loss of Stamford's position as an industrial base and the redefinition of the town as a city marked a time of momentous change. This era saw the overturn of The People's National Bank, a New Deal mayor and an approved Consolidated Charter, enforcing town governments to join under one city banner—this was the small-town-turned-city moment. Amidst this great economic and social reckoning, an organization had its eyes toward simpler times. A time that relied on the community need for a collective breather—a safe place to enjoy nature, revel in tradition and congregate somewhere that wasn't around the living room TV. The Stamford Museum & Nature Center (stamfordmuseum.org) emerged as that place. Originally in Courtland Park, Dr. G.R.R. Hertzberg and his associates founded the museum in 1936 as a place of fine arts—a "cabinet of curiosities," he called it. Eighty-five years later, it still calls on the curious to examine our past and explore the possible through its philanthropic, artistic and cultural evolution.
"We revel in nostalgia, tradition and social engagement," says Melissa H. Mulrooney, executive director and CEO. "Our eighty-fifth anniversary story begins at a simpler time. There was no television, no Internet, no computers, cell phones or social media. Communities relied on parks and town squares for family engagement, recreation, education and entertainment. Built upon these values over eight decades, we have creatively flourished into the beloved Stamford Museum & Nature Center destination we are today." Sitting on an 118-acre campus consisting of the Bendel Museum, the Knobloch Family Farmhouse, Heckscher Farm, hiking trails and surrounding forest area, the museum celebrates nature, family memories and traditions and focuses on educating the next generation on art, natural sciences and history.
Many who step on the property will take note of the sprawling Tudor residence on top of the hill—that's Bendel Mansion. In the 1920s, fashion designer and department-store owner Henri Willis Bendel sought to build a mansion reminiscent of a lavish British manor house. He had it designed with lead-framed glass windows, post-and-beam architecture, Italian marble sculptures and gargoyles, garden design and multiple chimneys. Today, the mansion serves as beautiful space for six annual arts exhibitions, including the eighty-fifth anniversary exhibition held this past summer, aptly called Enduring Wonder. "The exhibition reflected the beauty of artistic creativity and the wonders of natural history by featuring a selection of the museum's permanent collection of paintings and sculpture, natural history and historical objects and Native American works," the arts committee chair, Lynn Villency Cohen, says. In a true showing of support and celebration, the museum's major fundraiser saw its greatest uptick in memberships: an unprecedented 4,900 new members—more than double the number of member households since the June 2020 reopening. Because of this incredible response, they extended celebratory membership rates through the end of 2021.
Every year, around 200,000 adults and children are welcomed to enjoy programs like drive-in movies, farm-to-table suppers, author talks, concerts, Sunday farm markets, local artisan markets, clam bakes, family festivals, astronomy nights and picnics on-site. It's the landscape, however, that really speaks for itself. "With more than eighty acres of hardwood forest, hiking trails and walking paths, we are the model nature-based organization for getting families out of doors year-round," says Mulrooney. This picturesque, rural oasis was perfect for the construction of Heckscher Farm, which was granted in 1955. It serves as a working, New England farm equipped with organic gardens and several different heritage animals like Randall oxen, goats, Jacob sheep, llama's and chickens—all maintained by the hardworking staff and volunteers at the SM&NC. It is also one of two registered producers of maple syrup in Fairfield County—made right in the Sugar House and Cidery from the maple trees on the property.
With the addition of the Knobloch Family Farmhouse complex, which opened in November 2018, it marked the first time in fifty years an educational facility was introduced to their collection of offerings. "We knew this capital addition to our Heckscher Farm would be a sure-fire capacity builder for our renowned education programs," Mulrooney heralds. "Its success transformed our programming pallet for intergenerational learning, entertainment and engagement when we and the community needed it most." Even through the pandemic, the Farmhouse found a way to adapt to the climate while vitalizing the indoor gathering space for all its extracurricular and event programming. "To meet the needs of a public longing for connection in a safe and socially distanced way," explains Mulrooney, "we nimbly leveraged our new buildings and outdoor spaces to launch innovative and enriched programming. At the height of the pandemic, our reimagined programs and offerings were highly successful. Admissions and membership soared and foot traffic doubled. Our 118-acre nature-based site offered a vital safe haven and welcomed more than 152,000 adults and children from Stamford and neighboring communities."
With the interests of the nature-lovers in mind, the educational staff were able to introduce remote learning and digital camps into the program. "Our expert educators pivoted to support families with homeschooling, learning pods, micro-schools, digital programming, our own after-school programs and new options to take advantage of outdoor learning." Through its Art, Nature & Me preschool program, SM&NC was able to reach 39,000 in 158 schools, pre-Covid—a number unsurprising to the youth they've been able to inspire within its environmental and STEAM-related programs. Unlike traditional methods of learning, which is done mostly inside, children get to learn from the great outdoors, rain or shine. Call it one big recess for them. "There is no such thing as bad weather at the SM&NC. Our kids are outside every day," Mulrooney says.
Though rooted in a bygone era, The Stamford Museum & Nature Center is anything but dated now. Their consistent focus on growth keeps the community coming.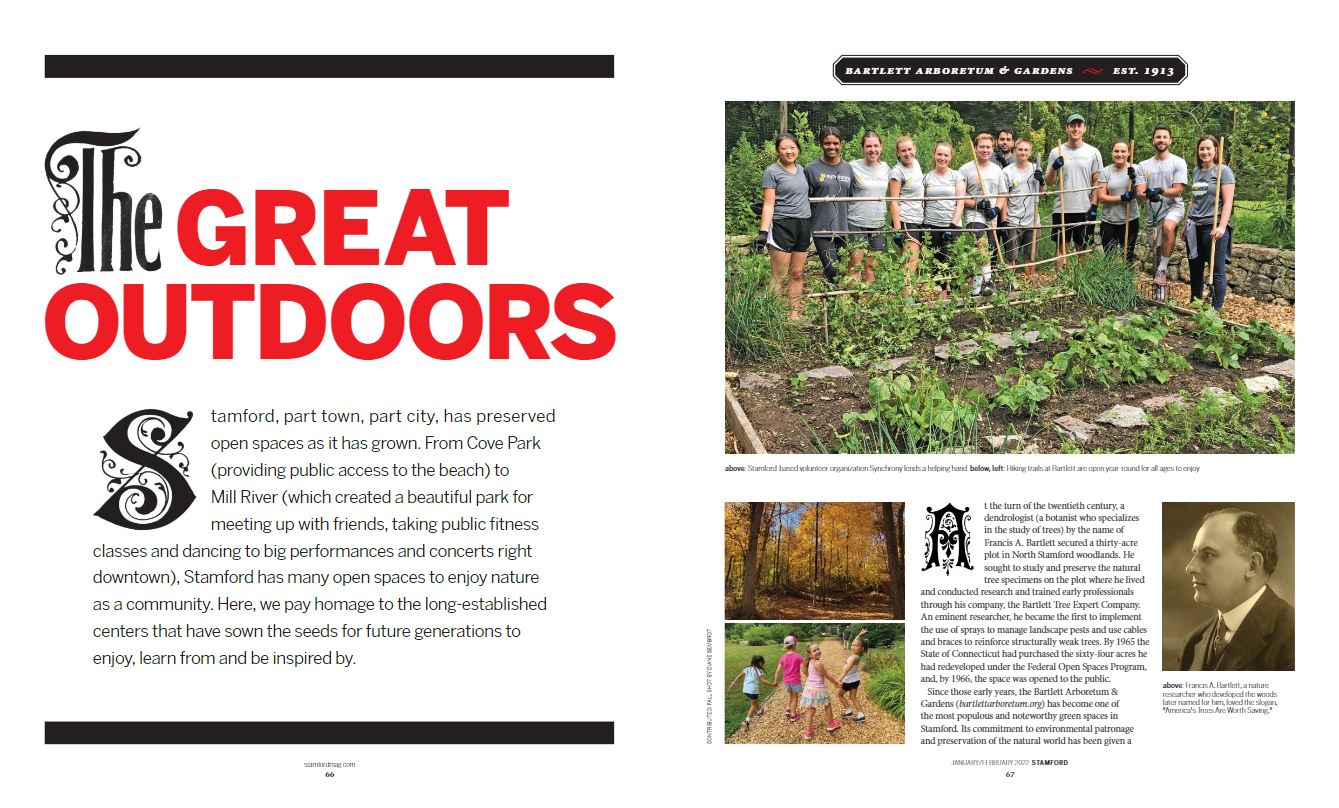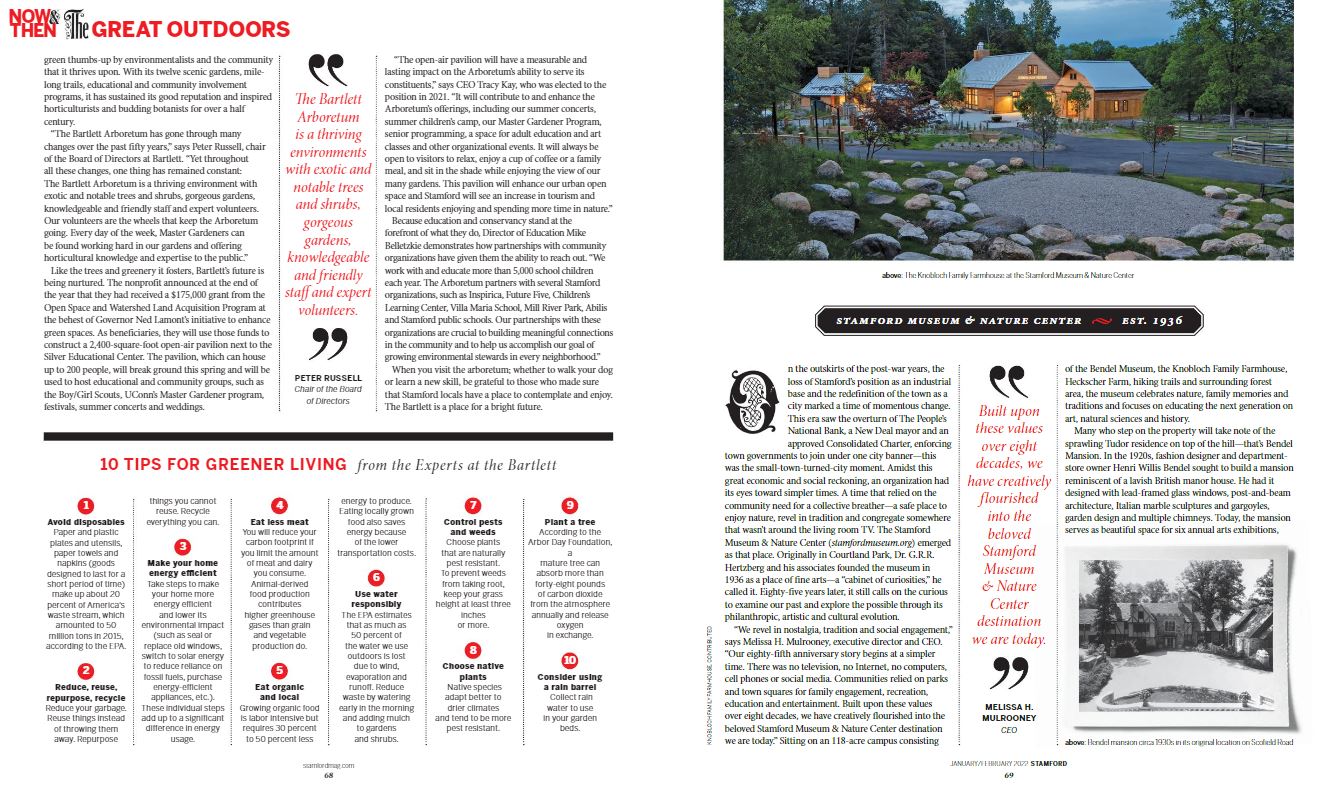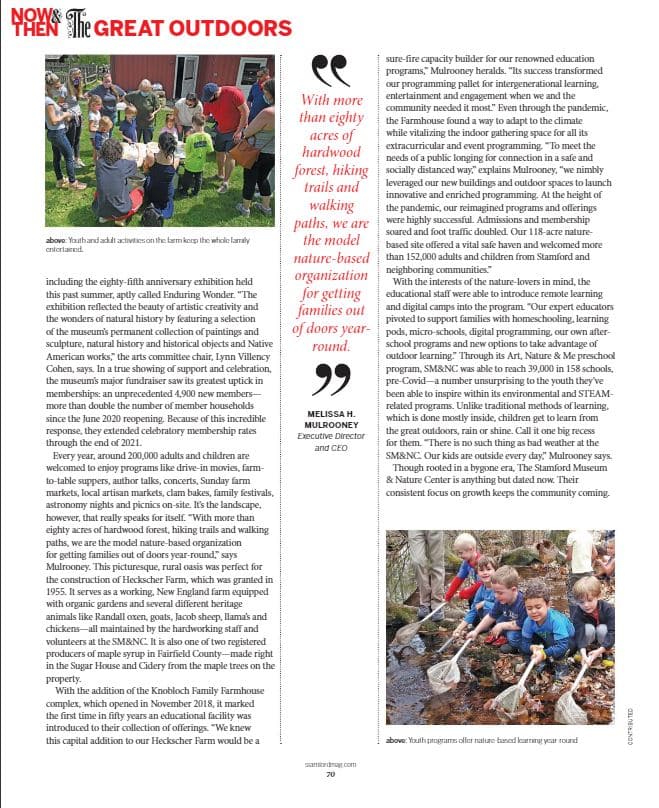 Read Stamford Magazine's Jan/Feb 2022 flipbook online
Read Stamford Magazine's original article by Joey Macari.