Stamford Museum & Nature Center Mourns Loss Of Beloved River Otter
Bert, a North American river otter, died on Feb. 4, the Stamford Museum & Nature Center announced. He had been there since 2008.
Richard Kaufman | February 9, 2023 | StamfordPatch.com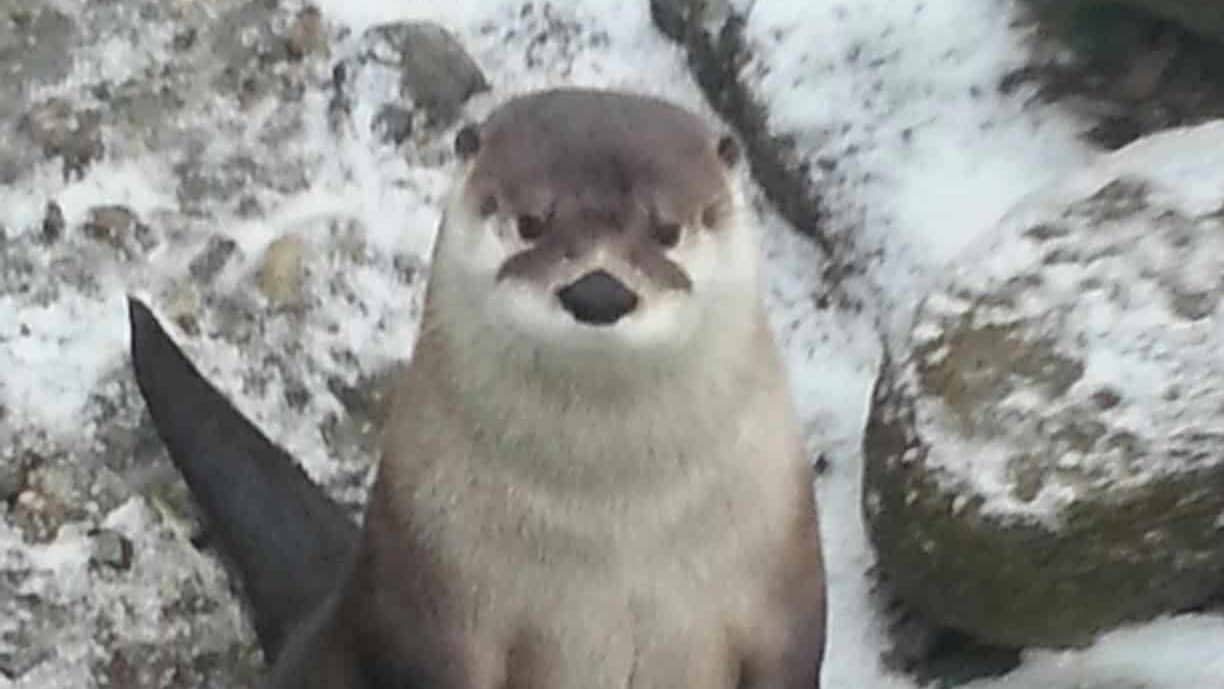 STAMFORD, CT — The Stamford Museum & Nature Center announced this week that Bert, the beloved North American river otter who delighted visitors over the years, died on Feb. 4. He was around 21 years old.
The SM&NC posted about Bert's passing on Facebook.
"In his long life of 20+ years, he enjoyed the SM&NC pond with otters Edie and Sadie," the post read in part. "Bert was a staff and visitor favorite and will be greatly missed by all, especially by his friend Sadie."
Edie died in 2016, and only Sadie remains.
Underneath the post, residents commented their well wishes and photos they've taken of Bert.
"I am so sorry to hear this news. There has been a special place in my heart for river otters since I first met Bert way back in 2008! He always put a smile on my face," said one person.
"Rest in peace Bert. You brought much joy to many, including myself. I'm going to miss you," another person said.
Bert came to the SM&NC and Heckscher Farm from Ohio in 2008. He fit in right away.
"He was definitely very popular… He just always had a relaxed, kind of easygoing demeanor," said Heckscher Farm Manager Victoria Jaffery, noting that Bert was always "drama free."
Sadie and Edie sometimes stirred up trouble while Bert went with the flow.
"He was just a happy little dude, and he never tried to bite any of us or growled," Jaffery said.
Bert enjoyed playing in the snow, and when he was younger, he particularly liked to break through ice, Jaffery said.
Every night, caretakers would give Bert towels/blankets and a stuffed animal to sleep with.
"We don't stage it, we kind of let them make their own bed," Jaffery said.
One morning, Jaffery came in and found the stuffed animal propped up in the corner and tucked in under the covers.
"He definitely did like cuddling bigger stuffed animals and lounging on them. He was big fan of sleeping, especially later in life," Jaffery said.
One lasting memory that sticks out for Jaffery is when she'd wake Bert up in the morning.
"When you'd go down there he would be bundled up in his blankets, and he would do this slow stretch and come out. He'd give you a cute little look," Jaffery recalled.
There were signs in recent months that Bert was slowing down. His vision had decreased, and his hearing was more impaired. But he was active and eating up until a few hours before he died, Jaffery said.
North American river otters can live eight to nine years in the wild, but up to 20-plus years in captivity, according to the National Wildlife Federation.
Following Bert's passing, Sadie could sense that something was off. Caretakers have tried to keep her busy since.
"She was definitely looking for him the first couple days. We've been giving her a lot of stuff to keep her mind off of it, putting a lot of enrichment in her exhibit, both during the day when she's out and at night giving her lots of treats," Jaffery said.
Jaffery said the SM&NC will probably sit down to discuss if they should get a buddy for Sadie, or see how she does on her own.
"We're still kind of in the early stages of that, so we don't have a set plan," Jaffery said.
More information on Heckscher Farm can be found here.